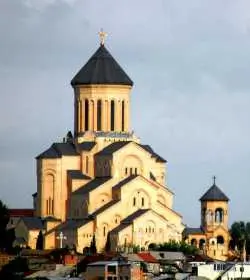 Georgian Orthodox Church (official name: Georgian Apostolic Autocephalous Orthodox Church, cargo. Georgian Apostolic Autocephalous Orthodox Church) — autocephalous local orthodox church, ranked sixth in diptychs Slavic local churches and the ninth in the diptychs of the ancient Eastern patriarchates. One of the oldest Christian churches of the world.
According to the Charter of the GOC from 1995 of the year, the jurisdiction of the GOC extends to the entire territory Georgia, including (nominally) territories of partially recognized Abkhazia and South Ossetia, Orthodox Christians, living in Armenia, as well as Orthodox Georgians, living outside Georgia and not subject to the jurisdiction of another local Orthodox Church or who wish to be under the jurisdiction of the GOC.
According to legend, Iveria — apostolic lot Mother of God. IN 337 year the labors of the saint equal to the apostles Nina, who baptized Iberia, Christianity became state religion Georgia. The church organization was within Church of Antioch[23].
History of receiving by the Georgian Church autocephaly not clear. Explicitly a certain degree of independence (informal autonomy) was obtained at kings of Iberia Vakhtange Gorgasali at the end of the 5th century. Based on indirect data, the first Catholicos-patriarch of the united GOC is called John Okropiri (980—1001). From the beginning of the 19th century, due to the entry of the territory of the current Georgia into the Russian Empire (1801), The Georgian Church existed as part of Russian Church as Georgian exarchate to 1917 of the year, when autocephaly was restored without prior arrangement. IN 1943 year, the autocephaly of the Georgian Church was recognized Moscow Patriarchate, a 3 Martha 1990 of the year - Constantinople Patriarchate.
Article 9 Constitution of Georgia reads: "The state recognizes the exceptional role of the Georgian Orthodox Church in the history of Georgia and at the same time proclaims complete freedom of religious beliefs and beliefs., independence of the church from the state ".
A source: https://ru.wikipedia.org/wiki/Грузинская_православная_церковь